CAL-SHINE ANTISEPTIC HAND SANITIZER IT'S MADE FROM THE FOLLOWING INGREDIENTS
It is used for various purposes at home and pharmaceutical applications. To kill germs and harmful bacteria that can lead to sickness and infection. Isopropyl Alcohol is a disinfectant, so it kills these pesky germs and harmful bacteria. There are various products used in hospitals and our homes that use isopropyl alcohol. While isopropyl alcohol is marginally more expensive than ethanol, its superior purity characteristics make it a safer choice for making hand sanitizers
A natural humectant, Moisturizes, or a skin-conditioner, glycerin keeps your skin hydrated and soft. It also protects your skin from harmful environmental aggressors, while improving its texture. Glycerin also treats several skin disorders, ranging from dry skin to wound healing. Generally, glycerin is safe for all skin types. Products with glycerin can be used topically multiple times a day works well with other moisturizing ingredients.
"Glycerin works as a humectant, it attracts moisture from the air into the stratum corneum (top layer of skin), and due to its low molecular weight, will continue to draw moisture to the deeper layers of the dermis. Glycerin It has a molecular weight of approximately 92 g/mol, which means it is able to penetrate deep into the skin,". "Glycerin is a naturally occurring compound in the body. In topical skincare, it is derived from plants,"
It helps protect skin against harsh products: glycerin is "used a lot in pharmaceutical creams, promoted by doctors to treat extreme dryness and repair skin elasticity. It keeps your skin soft, supple, and hydrated, which is essential as we use harsh soapy products, which strip away our natural oils."
It prevents the loss of moisture: "Oils and serums are meant to penetrate the skin barrier and be absorbed by the skin. Thicker products, like those that include glycerin, are meant to support the skin barrier by covering the outside. "They prevent loss of water in the skin, which allows natural oils to nourish and repair."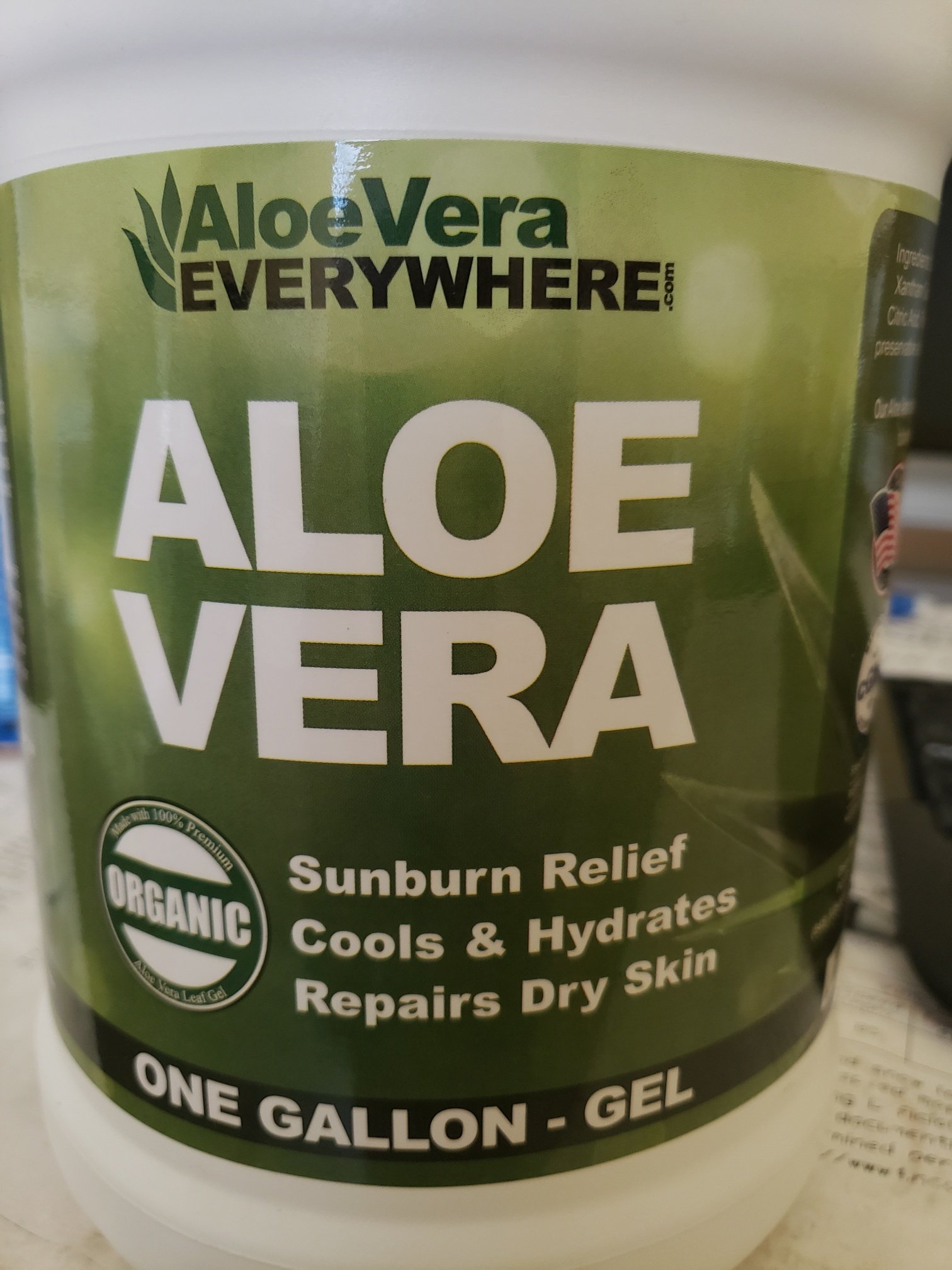 Aloe Vera it's known to heal scrapes, scars, burns, skin rash, sunburn, dry skin, dandruff, or cuts this soothing & cooling pure Aloe Vera gel is great for you. Aloe gel has the ability to quickly regenerate skin cells in the times that you need it the most. It brings you sunburn relief!
Aloe Vera is a plant with naturally moisturizing qualities that have been used for centuries to improve the skin's elasticity and overall texture so that it is soft & supple.
If you suffer from eczema, psoriasis, poison ivy, or other types of skin rashes you should know that. Aloe Vera gel can prevent irritation, redness, and itchiness. It can be used as a dandruff shampoo or conditioner. Perfect to use in psoriasis treatment, after-bite treatment & razor bump treatment.
Aloe Vera is a plant of the succulent variety that grows all over the world. Due to its amazing rich medicinal and cosmetic qualities, it has been used for centuries. Our aloe vera gel 100 percent pure can be used for baby care., without any fragrance. Aloe vera gel for the face is great as a gel moisturizer and scar gel!
aloe vera gel preparation of leaf pulp from the parenchymal tissue of the plant Aloe vera (Liliaceae). Aloe vera gel contains carbohydrate polymers, such as glucomannans or pectic acid, and various vitamins and essential amino acids, as well as other organic and inorganic compounds. It is cultivated for agricultural and medicinal uses.
Aloe vera is perhaps one of the most widely used herbal remedies for topical skin conditions. This is because the gel-like components of the plant are known to heal the skin from a variety of minor infections, sunburn, minor cuts, or abrasions.
Hydrogen peroxide is a mild antiseptic used on the skin to prevent infection of minor cuts, scrapes, and burns. It may also be used as a mouth rinse to help remove mucus or to relieve minor mouth irritation (e.g., due to canker/cold sores, gingivitis).
Hydrogen peroxide. It is used as an oxidizer, bleaching agent, and antiseptic.
Hydrogen peroxide does kill germs, including most viruses and bacteria. A concentration of 3% hydrogen peroxide is an effective disinfectant typically found in stores
Hydrogen peroxide is active against a wide range of microorganisms, including bacteria, yeasts, fungi, viruses, and spores 78, 654. A 0.5% accelerated hydrogen peroxide demonstrated bactericidal and virucidal activity in 1 minute and mycobactericidal and fungicidal activity in 5 minutes 656.
*Norovirus is enclosed by a structure known as a capsid. Alcohol cannot get through it, which is why alcohol-based hand sanitizers do not kill norovirus. "It's resistant to many common disinfectants," CDC recommends using bleach to kill it, including chlorine bleach or hydrogen peroxide.
Lavender essential oil is one of the most popular and versatile essential oils used in aromatherapy. Distilled from the plant Lavandula angustifolia, the oil promotes relaxation and believed to treat anxiety, fungal infections, allergies, depression, insomnia, eczema, nausea, and menstrual cramps.
Benefits. Lavender oil is believed to have antiseptic and anti-inflammatory properties, which can help to heal minor burns and bug bites. Research suggests that it may be useful for treating anxiety, insomnia, depression, and restlessness.
CAL-SHINE ANTISEPTIC HAND SANITIZER Stands Behind All of Its Products. If You are Unsatisfied with Your Order, Please Contact Us for a Free Replacement or Refund.